I remember that a looong time ago i did this tag kind of thing in another blog and it was kinda fun so i decided to do it again. This was because i recently cleaned my wallet (to find my lost creadit card! i didn't btw) and when i was doing this i thought "i should get another one! :D". Yeah, just like that lol. It's really old (like 4-5 years) and i could do with something a little bit more "sofisticated". So before i buy a new one i wanted to do this post so that when i'm an old woman i can remember what my wallet looked like when i was 22 (as if! old women don't to look at that stuff lol).

Neon Zebra Hinge Wallet @ Hot Topic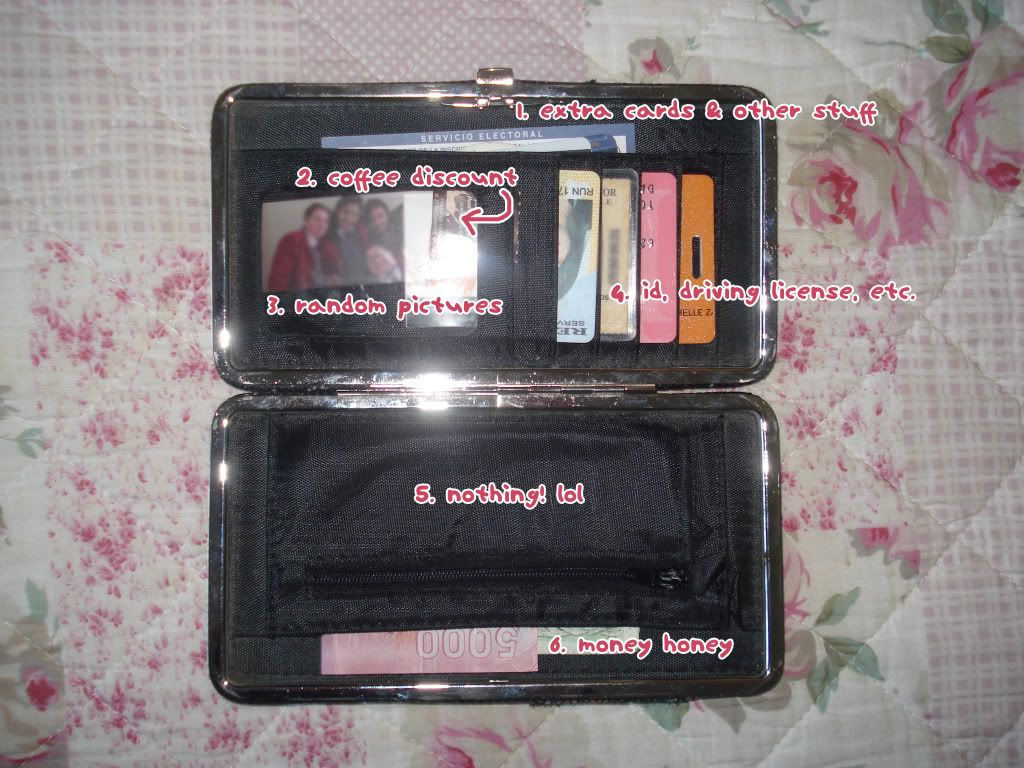 1. Extra Cards & Other Stuff:
There's a really tight pocket where i keep my voting card and other random things. I also keep there receipts but since i cleaned it obviously i threw them away.
2. Coffee Discount:
from Dunkin Donuts! I have like 6 of these that i received with the purchase of a travel mug (cheaper coffee if i bring the mug! SO GREEN!). I love the Dunkin Donuts coffee♥ i'm a huge fan of Starbucks and these are an awesome cheaper alternative. Caramel Dunkalatte FTW!
3. Random Pictures:
in this space i think that is common to put the ID but it seems that in the US IDs are smaller than here. So i just put in two pictures: one with all my friends (cortesy of
Moo
from when they gave free pictures from the ones you had uploaded on Fotolog, yeah
THAT
old!) and another one of a friend that she put it there lol.
4. ID, Driving License, etc.:
Pretty obvious. Here you see my ID, driving license, a store's card (where my credit card was!!!! i'm so mad at myself that i lost it!) and my local casino's card lol. No, i don't have a gambling addiction like Marge Simpson.
5. Nothing:
I had to put this here just to tell you that i don't put coins on my wallet. The reason is because when i put too many it's hard to close so i prefer to carry a coin case with me for that (i also keep there my student ID).
6. Money Honey:
OMG A 5000 BILL!!!! You're lucky to see that there because i never have money lol. Oh and they're chilean pesos because i... live in Chile! *
dramabutton
*
Now i think that this was really boring because i have
nothing
in my wallet lol. But i repeat, i cleaned it yesterday so if you want to see all the junk i had you'll have to peek inside my trash can :D.
What's in your wallet?