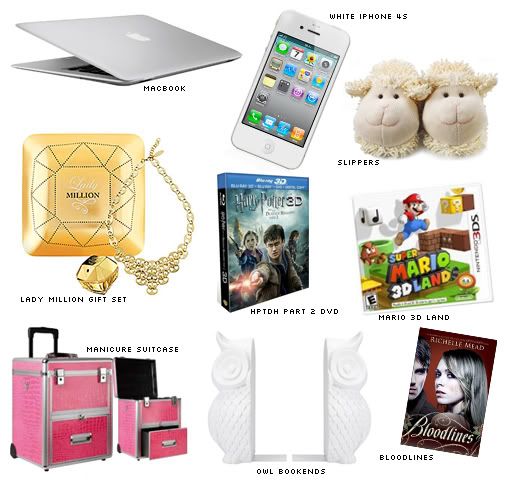 No one in my family (not even Santa lol) is a millionaire so i probably won't be getting any of these things but i can dream. I also love seeing other girls wishlists so if you posted one give me the link :).
Mac Book:
WHAT?! lol My laptop is a piece of crap and since i study graphic design that's not a good thing at all.
iPhone:
This will always be in my wishlist because i'm sure i'll never have one because they're so freaking expensive! But i love them! Any model works for me but my favorite is the 4S in white (obviously!).
Slippers:
The one thing that i'm going to get because i'm going to buy them for myself. Not the ones in the photo but i hope that i can find a pretty pair (anything is better than my old ones that where attacked by spiders D:).
Lady Million gift Set: Have you ever seen a prettier bottle? I think i only want it to decorate my room lol.
Harry Potter and the Deathly Hallows Part 2 DVD:
I have all the other movies and of course i need this one ;). It would't kill me if someone also buys me a blu ray or a 3D tv lol.
Mario 3D Land:
Since i bought my N3DS i haven't played a single game in 3D because i don't have the money to buy one lol. It would be nice to see the wonders of 3D.
Manicure Suitcase: The institute where i have my manicure classes sell this lovely pink suitcase that would be really helpful when i go to work.
Owl Bookends: Super random, i know! These awesome bookends are by Laura Ashley (my favorite interior decoration store!) and would look perfect to hold all my books in my room.
Bloodlines by Richelle Mead:
I'm a HUGE Vampire Academy fan and i feel the need to read this spin-off. I read the first chapter online months ago and i think i'm dying lol. Oh and fyi, i read this kind of books in english because i buy them from Amazon. I don't really like reading in spanish... i'm weird.
See something you'd like? Which items are in your wishlist? And if you didn't like this post i have a brand new nail art wheel to show you guys really soon :D. I'm so excited.