I feel that it's been a while since my last polka dot nail art so i'm reviving now an all time favorite. I was in the mood of something girly and i think that was because i was watching Gossip Girl (btw i'm dying here for season 5!). I used my newest polish for this, Maybelline's
Astral
that is a dusty rose colour. It isn't something i haven't seen before but despite all the pinks in my collection i don't have a dupe. I added two clear rhinestones per hand for an extra touch of girlyness ;). Cross your fingers for them to last at least till tomorrow without chipping because i have a birthday party and i really don't want to re-do them.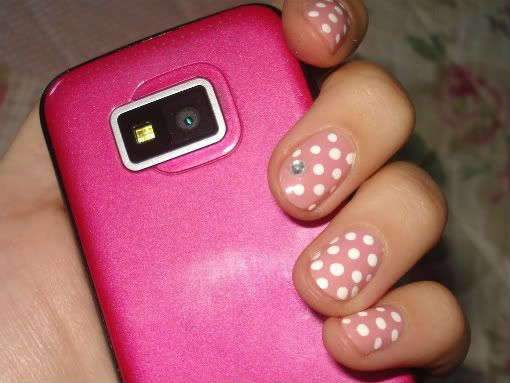 As a bonus i wanted to show you guys my new phone faceplate. I have a Nokia 5530 (which i hate!) and till i have the money to upgrade it i thought of buying something to make it look prettier. I'm a
HUGE
sucker for pink phones, cases and stuff like that... well, actually everything pink caughts my eye. In real life the colour is less brighter but still 1000 times better than boring black. Oh, and the front is silver! I was just more interested in the back :).